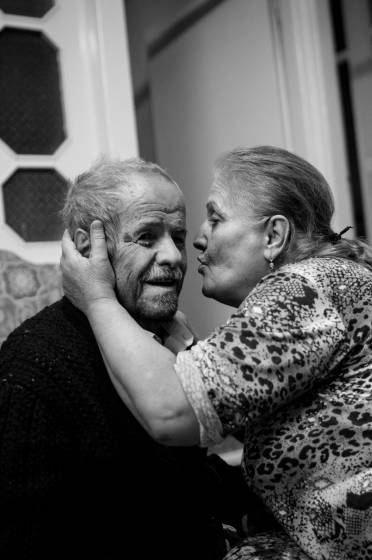 Free
Play story
Available languages:
English
Publisher:
CINE-BOOKS Entertainment Ltd.
My grandmother Khadijeh (64) and my grandfather Akbar (92) got married after the death of their spouses and marriage of their children together. Both couples resided in a joint house in Iran's city of Qazvin.
After living in a joint house for 15 years, in 2001, their children moved to another place. This came as a big shock to Khadijeh who had a significant emotional dependency on her children and grandchildren and she faced mental disorders. Despite her children and Akbar's efforts, she was hospitalized in a psychological clinic due to the severity of her illness. Three months later and after a relative recovery of Khadijeh, Akbar had a stroke when he was 83. He lost a 40 year period of his memory, in addition to the paralysis of the left part of his body.
Khadijeh was suffering from sleeping problems. Akbar was awake for long hours at night because of having disorders in his body clock. But this didn't make Khadijeh recruit a nurse at home. She also rejected the offer of Akbar's children on sending their father to a nursing home.
She, by herself, looked after him for more than 9 years whereas Akbar didn't recognize Khadijeh and he even forgot her name. Feeding, bathing, face shaving, changing his diapers as well as lullabying him, was among the things that Khadijeh was doing constantly for Akbar on a daily basis. Khadijeh said, "I am looking after Akbar like a butterfly to keep him clean and beautiful as the same as a flower."
Akbar passed away in 2014 while Khadijeh was sitting by him in bed. Khadijeh is now waiting for selling the house and heritage of Akbar by his children. This sudden incidence brings illusion to the destiny of an aged woman who has no financial income. Khadijeh is missing Akbar loads these days for not having him by her. She also is worried about her vague future.