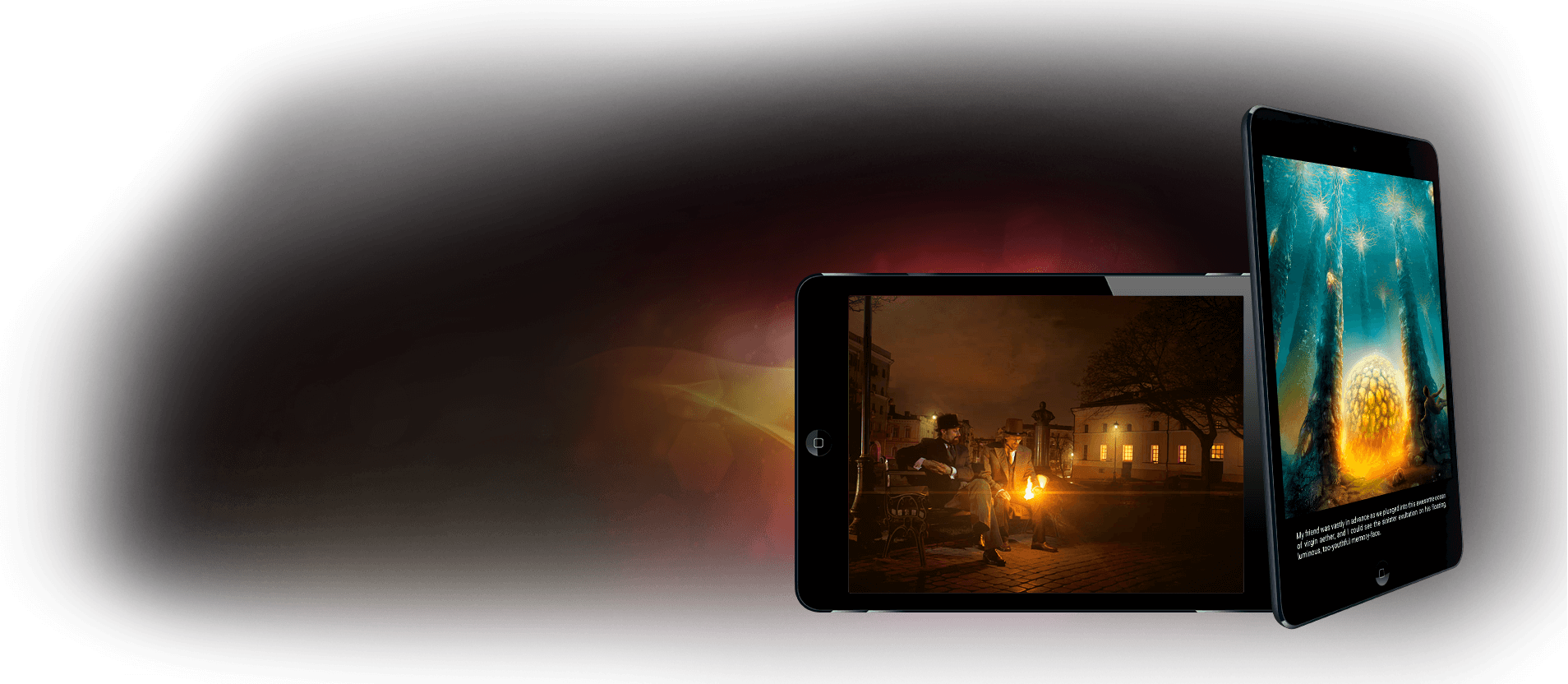 READ-LISTEN-WATCH
Try a new book-reading experience!
How many times do you say "the book is better" after watching a cinematic adaptation of your favorite story?
Rarely does a film capture the atmosphere and emotions of its literary original.
CINE-BOOKS creates screen versions of books that always contain the full original text while adding even more!
You can:
READ cine-books like regular written stories illustrated with cinematic quality photos on every page.
LISTEN to them as audio-books with professional voice-acting and background audio with musical inserts.
Or even WATCH them just like movies with dynamic animations and special effects that breathe new life into every story!
FULL CONTENT
Discover full original content of a book!
CINE-BOOKS is the world's most ambitious book-filming project.
Unlike regular movie adaptations, cine-books keep the full original text of the work while also adding a comprehensive and exciting visual side.
Every single episode of a book comes to life with our new cine-books format. You are invited to enjoy amazing graphics with special effects and sophisticated acting without missing a single word from the original story.
FRIENDS & FAMILY
Enjoy books together!
In today's busy world we often don't have enough time for our loved ones. Unfortunately, relaxing with a book takes you even further from them as only one person can enjoy a story at a time.
CINE-BOOKS offers an innovative breakthrough product which takes the art of writing and storytelling to another level.
By turning book-reading into a social activity, we bring people together and help you spend more time with your friends and family.
Enjoy on MANY platforms
You choose how to enjoy your cine-books!
CINE-BOOKS is a multiplatform channel of entertainment available on mobile - iOS, Android and Amazon. So, you can experience cine-books on your iPad, Android tablet, Amazon Kindle Fire.
We're very excited to release a PC and Smart TV version soon to watch stories even on a big screen.
Buy once – enjoy everywhere!
At CINE-BOOKS we make it easy for you to buy a book once and enjoy your content across multiple platforms at no additional cost.
Upon buying cine-books from our website you gain access to your purchased stories on all of your devices.
PERFECT FOR PARENTS
Involve your kids in literature and book-reading!
In the 21st century, books have to compete for children's attention with cartoons, video games, social networks, online videos and TV-shows. It's no surprise the latter are winning.
By adding exciting media content to original text, CINE-BOOKS makes reading more interactive and attractive for the youngest audiences. Presenting literature in such an entertaining way helps motivate even the most reluctant readers!
PERFECT FOR TEACHERS
Make your lessons more interesting than ever!
Our visual format is infused with stunning illustrations and videos. It was designed especially to help motivate students and increase their hunger for books. The CINE-BOOKS Classics Collection will transport each of your pupils right into the center of a story. Studying literature has never been so easy and fun!
Just download the CINE-BOOKS app to your school's or students' personal devices, and enjoy!
CINE-BOOKS CLASSICS COLLECTION
Study Classics with pleasure!
Almost everyone agrees that classic literature is an important part of education. While many of us would like to go back to our favorite classics or discover the ones that slipped through, the fast paced world of the 21st century can make it difficult to do so.
With CINE-BOOKS Classics Collection, exploring classics is not only educational but also more exciting than ever! Now you can read world literary masterpieces in an easy, relaxing format,without missing a single word from the original.
NOT JUST BOOKS WITH PICTURES
Get even more from the book!
Cine-books are not simply books with pictures. They are real screen adaptations shot in a dedicated filming studio.
CINE-BOOKS is a filming company which takes book adaptations to the next level. Directors, actors, costume designers, makeup experts, special effects specialists and other professionals come together for every single project to create unique, state of the art screen versions. Most importantly, every single detail of the original story is preserved and cherished by our team of dedicated and enthusiastic professionals.
Every book is read by a professional narrator, including leading Hollywood actors.
Learn more about the behind the scenes creation of cine-books in our Blog.
UNIQUE INTERPRETATION OF EACH STORY
Go beyond the words!
Instead of creating just literal visualizations of the content, at CINE-BOOKS we bring our own creative and imaginative vision into each story.
A specially assembled team led by a film director works on each book. Conceptual, creative ideas allow them to recreate the unique atmosphere of every story.
We offer you more than just a book. You get a complete work of art with unique ideas and the original content preserved, with the addition of a creative, visual interpretation.
Some cine-books also include a director's cut with his/her own creative inserts.
If you are interested in cooperation or creating such content contact us here.
BEST OF THE BEST
World masterpieces come to life!
CINE-BOOKS makes screen versions of the best-selling works by the most popular contemporary and classical authors. Our goal is to build a library of all the greatest books ever written in a new and exciting cine-book format.
Currently we're proud to offer our CINE-BOOKS classics collection, which started with classic must-reads and the most visually stunning works.
Our company collaborates with contemporary, entrepreneur-minded authors of the best-selling stories all over the word to convert their finest works into the cine-book format. If you're interested in working with us, contact us here. 
YOUR VOTE IS IMPORTANT
Participate!
Help us to choose the story to be converted into cine-book. Vote for your favorite genre. Let's make the next step together!